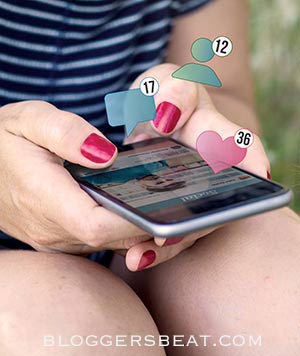 One of the first steps that you should take as a blogger is to create a clear comment policy. Back before I started this blog, I avoided all social media platforms like the plague. It sounds weird for someone who has a BBA with a concentration in information technology to say that. But, now that my job requires me to be active in social media, I am even more convinced than ever that it can be an emotional vacuum that sucks the very soul out of you.
Seriously, I am always amazed at how mean some people can be. I told myself going into this that I would need to develop a thick skin if I wanted to survive, but nothing can prepare you for some of the things that you may encounter. However, a good comment policy can help shield you and your viewers from the nay sayers and the Debbie downers.
Don't get me wrong. I totally love all the wonderful people who I have met through blogging and through all of my social media sites, and wouldn't change a thing. In fact, all things considered, my experience with negative people has been amazingly limited. However, I have seen so many things written and posted to other bloggers, journalists, and artists that I felt it was important to write something in support of my fellow online workers.
Create a Clear and Decisive Comment Policy…
Just to give you a small example of the things that I have seen: Just recently, I was looking at a pin on Pinterest of an adorable handmade wallet. It was clearly high-quality and required some serious time to create. Yet, someone felt the need to comment, "Like I'd pay $20 for this."
Another very common comment that I have seen (and to high-quality, home decor, journalists) is "I can't believe you get paid to write this crap!" No joke! People say this kind of thing, and I am always left wondering why they felt the need to even comment at all.
I mean, no one is making them read the material. Don't they understand that there is a real, live, person on the other end who has feelings? Or, do they not even care?
My own personal experience is a bit tamer, at least so far. As you may or may not know, parts of my home and some of my projects have been covered by House Beautiful, Good Housekeeping, Country Living, etc.
Well, last year Country Living posted one of their articles about my DIYed spice drawers on their Facebook page. It garnered a lot of comments, one of which was a very negative comment about how this was a "stupid idea because the spices would get hot and ruin". They didn't ask if the drawer space received heat, they just assumed that it did.
Well, that set off a major back and forth argument between several other commenters. I ended up intervening just to try to calm some ruffled feathers. I think I said something along the lines of
"Wow! I'm so glad to see that this project is so popular. For those who are wondering about the issue of the spices becoming hot…. [insert detailed explanation, here]."
I thought that would settle them down. Instead, they just went at each other even harder. I finally quit monitoring the comments, because the negativity was too much. Which is sad, because the overall response was incredibly positive.
One good thing did come from that experience, though. I decided right then and there that I never wanted something like that to happen on my blog. I mean, I want my blog to do what I intended it to do – educate, inspire, and help, without viewers being attacked by trolls. So, I created a comment policy.
Why Comments Are Important to You….
So, why even allow comments in the first place? Well, comments are actually a good thing for your blog. You always want your visitors to feel like they are sharing in the experience on your blog, and the best way to do that is with comments.
Comments are like little nuggets of gold to a blogger, and you should really treat them as such. They help to build trust by allowing people to communicate back and forth with you and others. It also lets people know that they matter to you.
In addition, comments are seen as a demonstration of viewer's engagement, and that matters quite a bit to Sponsors. We are fast reaching a point where 1 million Instagram followers will not pull much weight with advertisers and sponsors.
In fact, they are quickly coming around to the decision that 50k engaged followers are much more profitable than 1 million followers who may or may not be bots. And how are they determining the quality of your followers? If you said "engagement" you are correct.
How to Create a Clear Comment Policy…
So, what do? Well, you should always encourage comments, and try to stay far away from censorship. Visitors like to know that their comments are their own and won't be tampered with. Normally, this shouldn't be a problem. But you should be prepared for every eventuality.
If you are new to blogging, or you just don't yet have a comment policy, take a moment to plan what action you want to take if/when you receive spam, trolling, or hate filled comments. If you are about to start a blog, you are going to want to plan this out, as well.
Determine what tone you want your blog to take. Maybe you have a political blog and need to make concessions for angry and passionate opinions. In which case, you probably are going to need a more lenient comment policy.
On this blog, I want to provide an inspiring and helpful space. I also see no reason why a—– blog would/should garner anything worse than polite disagreements. So, to protect my viewers, I have a no tolerance policy on personal attacks. I also will not post anything that is obviously a troll. Life is too short to waste the energy.
To further protect my blog, my comment policy does leave open the possibility that a comment may be edited. This is not something that I have ever practiced beyond the removal of a URL link. As I said, I don't like censorship.
However, occasionally I will get a comment that I am unsure about – is it well-disguised spam? If I think it could be a real comment, I just remove any URLs and correct any typos. That way, the comment contains its intent, but my blog is protected. This, however, is the only editing that I do. If it needs more than that, it probably isn't going to pass the test.
Putting Your Comment Policy In Place…
Once you decide what course of action you plan to take, write up your policy. I wrote and published mine as a page. This way, it will only be seen when a link is clicked to go to that page.
If you scroll to the bottom of this post (just above the comment box), you will see where I have provided a link to my comment policy. (While you are down there, go ahead and leave a comment) 🙂 I just wrote a small note to set the tone, and then direct them to my policy, should they feel the need to read it.
You will find that most people won't read it, and those who do are often the ones who were about to slam you. Typically, trolls will pass on your blog if they see a policy is in place. They know that they won't be able to slip something by you, so they generally move on.
Final Thoughts…
Comments are a great way to build trust with your viewers. They like to know there is a real person on the other end, and that they are participating. You probably won't get many negative comments, but if/when that first one comes, don't let it pull you down for long.
We are all human, and we all have feelings. So, a day of emotion is to be expected. You can't always stop everyone, but with a good comment policy in place, your blog should be an enjoyable place for you and your viewers.