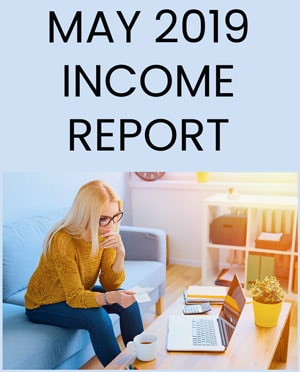 Do you notice anything about my May 2019 income report? If you look closely you will see the dip that I have been predicting since the beginning of the year.
I knew it was coming as it does every year. So far, I have just accepted that it was going to happen and used it as my spring cleaning month.

Yep, I do spring cleaning each year on my blog even though most people like to do these at the end of the year.
This year was no different. I started out the month with a blog audit. Which pretty much takes the entire 31 days to complete. Then, I begin the year long process of updating all of my old material and making changes based on my audit outcome.
Now, you may be thinking that an audit is good for a blog, and you would be right. However, it has mostly become my excuse for the (semi) big flop that the month of May always turns into. What I really need to do is address the problems causing this month to take such a dive each year.
That is, I need to start turning out some material for Mother's Day. As mentioned in last month's income report, I sorely lack in the material that covers the holidays for the first part of the year.
I used to have this problem for the Christmas holidays, too. But I started churning out some serious projects for Christmas and noticed my numbers level off. (Referring to my home improvement blog)
Obviously, if you don't offer what people need, the traffic will not come. And during the holidays, people need, well… holiday material. So, my goals for next year are to focus on some Mother's Day targeted posts and see if I can stop the bleeding.
May 2019 Blog Analytics
Pageviews dropped by almost 20k since last month. That is approximately a 19% difference, which is exactly the amount that I see every year. And​ since traffic is directly related to income, I saw a slight drop in that as well. All that being said, my numbers are still great for my year-over-year growth. So, I guess I can't complain too much. I still saw over 116% growth in pageviews and 120% growth in viewers, which means I am still meeting my annual goals.
This month's pageviews – 80, 893
Last years' pageviews – 37,434
Gain/Loss –116% increase!
Email Subscribers
End of this month – 11,607
End of last month- 10,668
Total Gain/Loss – 939
This month, I received almost 1000 new subscribers. This is less than I have been getting since the beginning of the year, but still a nice amount. (FYI – the number above in the image is slightly higher because the chart displays monthly ranges beginning on Sundays rather than a specific date.) The slight drop is a result of my most productive post having a slight downturn in click-throughs​ from Pinterest. This particular post has its own ebb and flow. So, this is not of concern to me.
May 2019 Income Report
Total Monthly Earnings: $1944.24
Amazon…$227.82
Amazon.ca…$1.76
Ads…$1711.70
Sponsorships…$0
Affiliate Marketing…$2.95
Total Expenses: $320.64
Hosting …$100.00
Email Services …$161.69
CDN…$9
Subscriptions… $40.95
MiloTree…$9
Total Profit:$1623.60
Future Goals and Plans
As I said before, my biggest goal is to add some high-quality content that covers Mother's Day. I have an entire year to come up with something fabulous. So, I should be able to at least reduce the percentage of this month's decline.
For my short term goals, I would like to complete the following before the end of next month:
Finish the cabinet build in my garage. It is a major project for my other blog which I have been working on for several months.
Complete at least 5 tasks from my blog audit's list.
Republish at least one post and bring it from the land of the dead.
I'll let you know how I do with those goals in next month's report!