This month marks the official beginning of the IRS's last quarter of the year. It also marks the beginning of several other significant events that can affect the bottom line for bloggers. So, let's dive in and see how everything played out for the September monthly income report.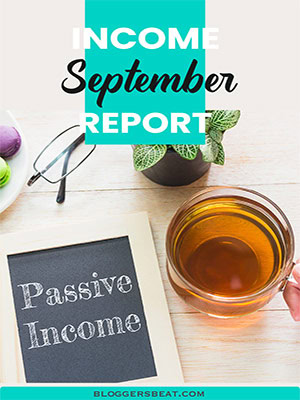 As mentioned in last month's income report, I was anticipating a drop in pageviews to mark the start of the final quarter. Because I have been blogging for so long, and also because I am so obsessed with making charts and spreadsheets, I am able to predict the natural rise and dips for my site.

As expected, my page views saw a significant drop from last month's. Since pageviews had a direct effect on ad income, I also knew that I was going to experience less ad income this month than last month. Poo!

But the great thing about being able to predict future trends is that you can take steps to either correct the cause (pageviews) or improve the result (income). I chose to do the latter.
How I Compensated for Ad Income Loss:
For me, I knew that gaining an increase in pageviews for the month would require a combination of some viral content and a massive amount of work to promote my site.

Because I already had committed myself to another major project, time just wasn't going to be available for me to focus on traffic. Instead, I opted for a quick fix.
I went back through some of my more popular content and checked for potential link placements for Amazon links. I also decided to accept a previously requested collaborative opportunity with another site that which I have a good relationship.

The collaboration required a few days of work to edit a video, but nothing like it would have taken for my other options. In exchange, I got a nice little check. So, win/win!

All my efforts combined to get the following results.
Email Subscribers
This month, I gained a net of 205 additional email subscribers. I am still doing regular monthly scrubbing to eliminate the dead weight. I was a bit stronger handed with the scrub this month than I was last month.
This Month – 13670
Last Month -13465
Gain/Loss – 205
Monthly Pageviews
Even though my pageviews were down a bit from last month, I am still pleased to report that my year-over-year increase was 68%! Looking back at my last year's results shows me how I should be trending and lets me know if I am still growing.
This Year's Pageviews – 80175
Last Year's Pageviews -47773
Increase – 68%
September Income Report:
As I already mentioned, my traffic fell a good chunk from last month. While expected, I wasn't relishing the drop in ad income. My efforts to intercede actually resulted in almost $100 extra dollars!

For those interested, my Amazon income increased by just over 32% over last month's. I made up the rest of the difference by taking on a collaboration. You can find the exact amounts for last month on the income reports page.

Since my ultimate goal for this month was to just maintain last month's income level, I am satisfied with the results. Plus, the Amazon link updates should continue to produce above my previous level for the rest of the year!
Total Monthly Earnings: $ 2608.46
Amazon…$513.46
Amazon.ca…$2.20
Advertising…$1787.44
Other Affiliate Marketing…$5.36
Collaboration…$300
Total Expenses: $356.57
Hosting …$103
Email Services …$194.62
CDN…$9
Subscriptions… $40.95
MiloTree…$9
Total Profit:$2251.89
Long Term Goals:
I know that doing these quick fixes like I did for this month is only temporary. Yes, I will likely still see an increase in Amazon income for quite some time. Those links are forever. But, the traffic issue will still remain.
Before next year, I want to come up with a course of action to help drive traffic to my site during this normal slump. I am still brainstorming on how I am going to do that. It may be that I will just have to accept that I will always have a dip in certain months.

I know it is normal for all bloggers to experience ebbs and flows, but it is a challenge that I have accepted. It certainly won't hurt to try and doing nothing is guaranteed to result in failure. So, onward and upward!