November was what I perceive to be the beginning of a not so great start to the end of the year. Normally, I am ecstatic when the 3rd quarter rolls around because the earnings are usually out of the park. While the November income report shows a good increase over the previous year, it was definitely not what I was expecting.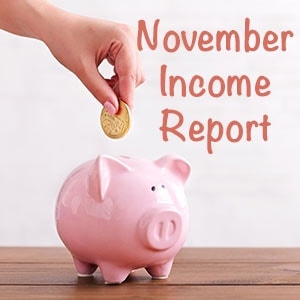 So, what happened? Well, this little thing called a Google algorithm update. Ugh!

These happen from time-to-time throughout the year, and while most have no noticeable effect on a blog's traffic, occasionally every blogger gets hit by one. This year turned out to be my year.
Income and Traffic for November
What I noticed happened towards the end of the month. I lost all of my Discover traffic. As you can see in the chart above, on November 8th, something major happened and all of my Discover traffic tanked.

Thankfully, it is just a tiny part of my overall traffic, and I am still up from last month. But, as you can see, I am charting all the way through December. So, I am looking at this month in conjunction with next month.
I am trying really hard to remember what my mindset was for November, but in all honesty, December is influencing my tone. I won't focus on the details for next month other than to provide you with this hint. The madness continues.

That being said, everything isn't as bad as it may sound. November's income is outperforming the rest of the year, as expected. So, let's get to the number crunching!
Email Subscribers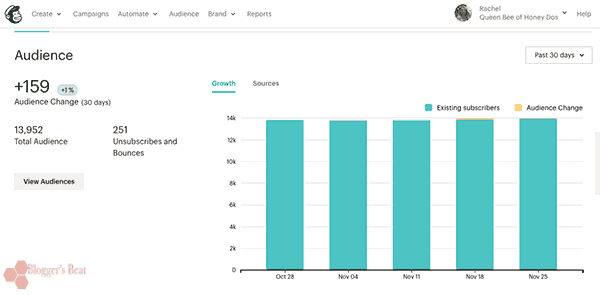 Last Month's Subscribers… 13,846
This Month's Subscribers… 14,006
Total Gain/Loss… 160
Traffic Report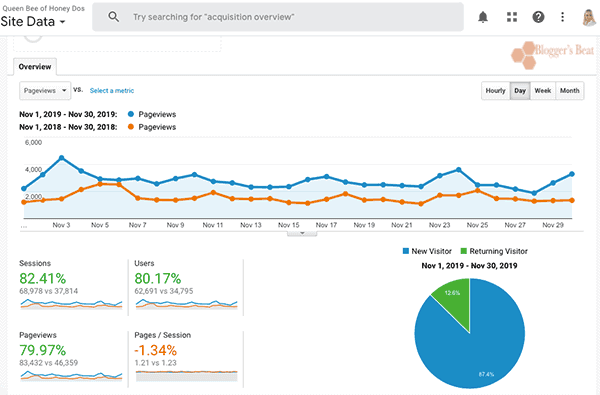 I was expecting a year-over-year increase of about 100%. However, the algorithm update prevented me from reaching that goal. But, I still saw a really nice growth.

Last Year's Pageviews… 46,359
This Year's Pageviews… 84,832
Total Increase… 80%
November Income Results for This Month
The push on my Amazon affiliate links that I put in place back in September is really paying off this month. As predicted, that little bit of effort has continued to repay me for the effort.
Total Income: $3363.75
Amazon… $706.01
Amazon.ca… $10.47
Ads… $2642.79
Other Affiliates… $4.48

Total Expenses: $353.45
Hosting …$100
Email Services …$204.49
CDN…$9
Subscriptions… $40.95
MiloTree…$9

Final Earnings: $3001.30
Final Comments
Overall, I can't complain. After all, growth is growth. But as I said before, I am writing this while experiencing results from December. If you want to see what a major Google update can do, jump on over to see my December income report.