Yes! It is finally the beginning of the last quarter and time for my October income report. October is the beginning of the holiday season for most advertisers. It is also the highest income-producing months for many blogging niches.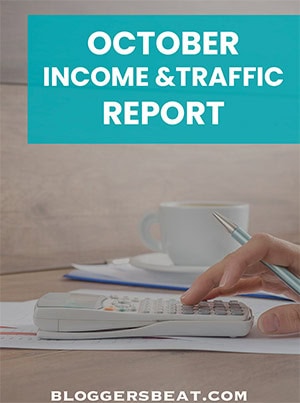 In fact, for most bloggers, the income earned during this last quarter often meets or exceeds the income made for the rest of the entire year.

That's a lot of dough! It is also a big opportunity for any blogger looking to take advantage of the holiday season.
Like most, my RPMs (rate per mil) go up substantially during this period.

But as mentioned in September's income report, I have seriously neglected doing holiday projects on my biggest income making site. (tsk. tsk.)
If you too are lacking in holiday material, don't fret over it. It takes time to build enough of that kind of material to support a large traffic boost. Just keep plugging away each year and you will see growth.
October's Email Subscribers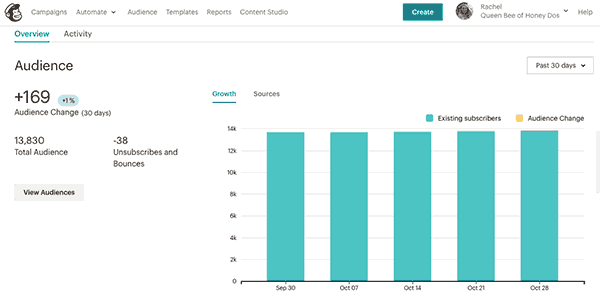 I really wish MailChimp's analytics would show the full month instead of beginning and ending based on the day of the week. But, I think you can still see that the last few days are not included. Which is why the charts are always slightly off from the actual amount. Oh, well.
Last Month: 13670
This Month: 13846
Total Increase: 176
October Traffic Report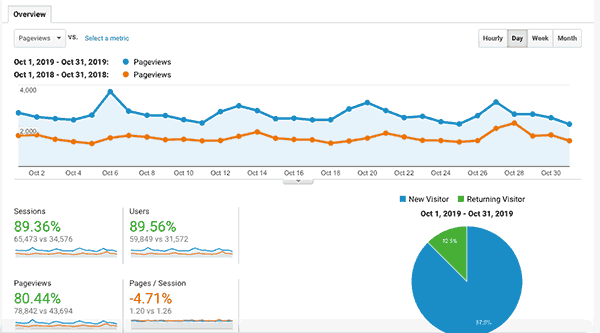 As always, October shows the second-biggest decline in viewers (right after the month of May). But, the year-over-year is still pretty decent. So, I am not going to complain.
Last October's Pageviews: 43,694
This October's Pageview: 78,842
Increase/Loss: 80.44%
October Income Earnings Report
The updates that I made prior to last month on my Amazon links are still showing results. This month, my affiliate income was $433.96.

That is less than last month's earnings, but still a significant increase over my monthly average of $287. I have a good feeling about next month's Amazon earnings.
My Final Income Breakdown
Total Income: $2528.16
Amazon…$433.96
Amazon.ca…$9.30
Advertising…$2023.90
Other Affiliates…$1
Collaborative Goods…$60
Total Expenses: $353.45
Hosting …$100
Email Services …$204.49
CDN…$9
Subscriptions… $40.95
MiloTree…$9

Total Income After Expenses: $2174.71
Future Goals
As I mentioned way back on my very first income report, all the blogging income that I have been making has been from my home improvement site.

This blog started out as a way for me to share my experience and tips with other bloggers and small business owners.

I wanted to branch out and do tutorials on skills that I have outside of renovations, and this was where I felt most at home.
Up until now, I have not attempted to monetize this site. So, everything that you see comes from just that one source. However, I am planning to start setting up a few things next month.

I will post more about that in December's income report. I don't expect to make anything significant off of this site just yet, but I said I would let everyone know if/when I start. [finger's crossed]