Well, folks! This is my first ever, blogging, income report! I can't believe that I am actually doing this! That is to say, I can't believe that I am going to share my income details. Back when I first started out blogging over on Queen Bee of Honey Dos, I had absolutely no intention of sharing my personal numbers with anyone except advertisers and the IRS.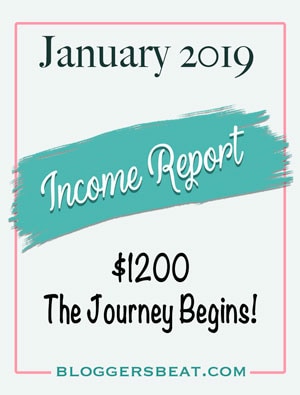 However, today is a new day! And, if I am going to run a blog about blogging, my creditability is tied up quite a bit in the amount of income that I receive. Wouldn't you agree?
In addition, this is the number one thing that new bloggers want to see. You want to know what successes I have achieved and how that may translate into something that you can duplicate. I get that. After all, there is a lot to be learned from studying other people's climb to success.
So, for the sake of better informing you and hopefully helping you out in some way, I have decided to start disclosing my income beginning with my January 2019 income report! But first, let me explain a little bit about my disclosure method.
Earned VS Paid…
It was a bit of a struggle for me to decide how I wanted to account for my numbers. Obviously, the time frame needs to start on the first and end on the last day of the month. Thankfully, the viewership is cut and dried, but with the actual income, I had to give it some thought.
See, I have several different spreadsheets tracking my income. One is for the purpose of paying my taxes and includes things like depreciation and percentages for home offices, etc. So, that one is not going to offer much insight.
Paid (Cash) Method:
Then, I have one that captures my paid income as it is deposited into my bank account and another one that tallies my income as it is earned but not necessarily received in the bank. There are pros and cons to both.
I thought at first that the most obvious way would be to show you the monthly income as I receive it. That, to me, seems the most straight forward.

But, then I realized that occasionally the numbers seem to jump in a way that makes it appear that I have surged to a new plateau, when in fact I may not have.
I see this sort of thing all the time. People will write up a post that says how they made massive income or numbers within a short time frame. When, in reality, they are just showing you a blip in time that is unsustainable.

I find those to be, at the very least, misleading. At most, they are intentionally deceptive.
Earned (Accrual) Method:
With all that in mind, I pulled out the past year's spreadsheet for earned income. This is income that is recorded as I earn it or the accrual method.

For example, if I complete a sponsored project during a month, or I have made affiliate sales, it is recorded as income for the month in which it is earned.
The downside to this report is that all of the various sources of income have different payout dates. Some hold the income for 30 days, some for 60, and some pay right away. So, if I am seeing a spike in paid income, it may not show through with this method.
The positives with this type of reporting, at least for me, is that you are not being misled into thinking that I am having one of those surges mentioned above.

For instance, most partners will have a minimum payout, and if you don't reach that minimum each pay period, the money rolls over to the next month.
This is where those spikes tend to occur in most reports. They make a little from a lot of different sources, but the money rolls over to the following month and accumulates.

Then, miraculously they end up with a large monthly payment. As a result, you see those "how I made a gazillion dollars in one month!" sort of posts.
I want to avoid that happening, so I am going to use the earned (accrual) method of reporting. Also, I like that you can see the real-time rise and fall with seasonal changes.

However, I caution you to remember that different niches will have different cyclical changes. Mine may not necessarily be yours.
More Details…
In addition, I should point out that I have two blogs, this one and my original. At this point, I am not monetizing this blog. So, what you see here is based on real-life struggles from a first-time blog.
Eventually, I hope to monetize this blog, too. But, when that time comes, I will definitely inform you of the addition. Likewise, I will always let you know if there are any other changes. You'll be able to see those as they occur in all of my income reports.
Prior to this Report…
Naturally, with this being the first report that I am posting, you may be wondering what happened prior to 2019. So, let me just quickly summarize that for you.
I started my first blog in 2015. I didn't begin monetizing it for 18 months. And like most first time bloggers, I only made just enough to support my caffeine addiction. It took 6 more months before I actually figured out what works for my viewers.
By the end of 2017, I was finally seeing enough returns to cover my monthly expenses and still have a little leftover. In 2018, I began paying out estimated taxes each quarter and filed the paperwork to become an LLC.
Monthly Analytics…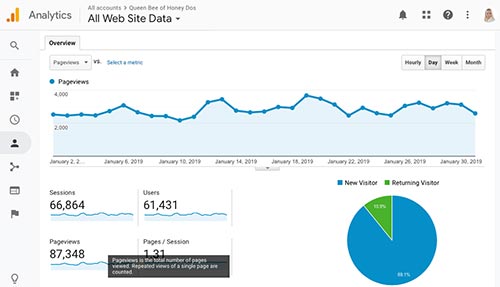 This month, my home improvement blog saw a rise in viewership over last month, which is normal for me. Home improvement projects fall off quite a bit during December. However, people tend to gravitate towards my niche after the holidays are over.
If my trends hold true, I will see a slight decline next month, due to February having fewer days. March should see an even bigger increase than January, as this is when the weather starts to warm up and spring-time improvements begin to take off.
Blog Stats:
This month's page views…87,348
Last month's page views… 50,107
Total Gain/Loss… 37,241
Email Subscribers: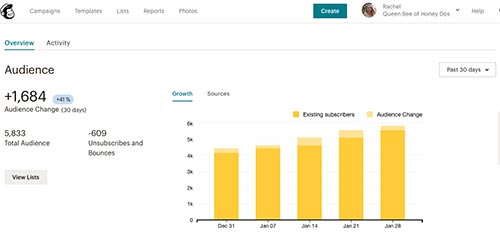 End of this month – 5833
End of last month- 4149
Total Gain/Loss – 1684
This month, I did a scrub of my subscribers. As you can see in the graphic above, I had a total of 609 Unsubscribes/Bounces. Approximately 400 of those were manually scrubbed from my list.

I try to do this every year to weed out the deadwood because, if they aren't opening the emails, then I am not paying to carry them! Just saying.

January 2019 Income Report…
Total Monthly Earnings: $ 1256.14
Amazon…$216.33
Amazon.ca…$18.71
Advertising…$978.23
Sponsorships…$0
Affiliate Marketing…$42.87
Total Expenses: $141.26
Hosting …$0
Email Services …$82.31
CDN…$9
Subscriptions… $40.95
MiloTree…$9
Earnings After Expenses… $1114.88
Changes Made…
Like most bloggers, during the early beginnings of my blog, I signed with a hosting service that was both affordable and just met the needs that I had at that time. (Bluehost)

When I needed more from them, I upgraded to a VPN. I did that back in 2017, and it served its purpose for a while.
Then, at the beginning of this year, I changed over to Agathon's hosting service in anticipation of the launch of this blog.

I was concerned about the amount of storage space and bandwidth that I had with my Bluehost account. In addition, I wanted to improve my speed.
Bluehost had served me well up to this point. However, with the constant increase in viewership and with the expansions that I was approaching, I felt like it was time to move to more hands-on service.

Now that I can justify the expense, I want to take advantage of all that a higher-end host can provide. (I will let you know how it goes after I have had an adequate amount of time to access the changes).
Goals for the future…
Right now, my short-term goals are to continue growing my home improvement blog and to establish this new blog. (FYI – you can help with that by following me any one of my social media accounts and/or by sharing this post with your blogging friends).
My semi, long-term, goals are to work on some of my own products. I have several in the works. Unfortunately, I had to place them on the back burner so that I could finish the setup for this blog because I do not yet have a staff or even an assistant to help out with those types of things. (I am still a one-woman band!)
No plans right now on trying to drive in more income. I'll get to that later after I have a chance to take a breath. For now, I'll just let it ride!
And that concludes my January 2019 Income Report. You can check out all of my income reports through my monthly income report's page.