I have to say that March is probably my favorite month of the year. The weather is starting to warm up. Flowers are starting to bloom. My gears are starting to turn. In general, I am just more productive during this time of the year, as the March 2019 income report reflects.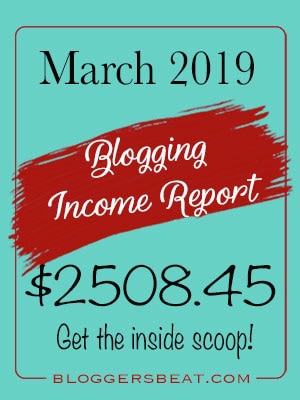 In addition, March usually signals a return from the 1st quarter slump from which most bloggers suffer. My RPMs have started to do their natural climb back towards normal. You can see that in the profits listed below.
And as I mentioned last month, the trend for my blog is to have a decent increase in numbers for March and again during July. So far, so good. Everything has been keeping with what I expected.
Changes Made:
As noted in last month's income report, I am mostly settled in with this new blog. I feel comfortable with the way things look, and I have established all of my social media accounts. FYI – you can find the links to those in the header. Feel free to come over and join me on one or more!
To speed up the traffic for this blog, I am trying out a few new things that I haven't tried before. I know that is a little cryptic and may leave you wanting.

I am still in the research phase for those. So, I don't want to suggest anything that I haven't tested, but if they pan out, I will definately share the details in a future post.
I also have started creating a free printable gallery for this site, which will be available exclusively to newsletter subscribers. It will cater to entrepreneurs and solepreneurs. Feel free to sign up for that now, and I will notify you once it is available.
March 2019 Monthly Analytics…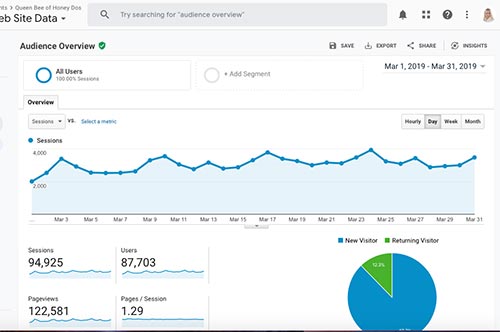 This month, I saw an increase in email subscribers of almost 26% and page views jumped up by approximately 35%! Now, you can see why I love March so much.
Blog Stats:
This month's pageviews – 122,581
Last month's pageviews – 90819
Gain/Loss -31,762
Email Subscribers: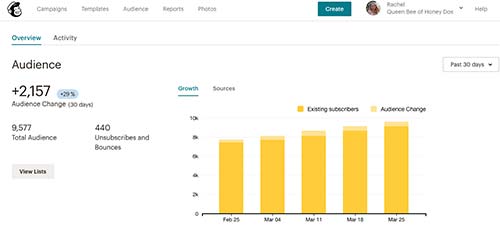 End of this month – 9577
End of last month- 7607
Total Gain/Loss – 1970
March 2019 Income Report
With the increase in pageviews and RPMs beginning to bounce back from the 1st quarter, I am starting to see a return in my income.

For those of you who are new or unfamiliar with advertising, the first quarter tends to see a drastic fall in paid advertising.
This, of course, can depend on your niche, but for the most part, advertisers are tapped out after Christmas. This should also occur again in July after the end of mother's and father's day, but not quite as drastically.
Total Monthly Earnings: $2508.45
Amazon…$217.58
Amazon.ca…$6.45
Advertising…$2228.06
Sponsorships…$0
Affiliate Marketing…$56.36
Total Expenses: $199.29
Hosting …$29.03
Email Services …$111.31
CDN…$9
Subscriptions… $40.95
MiloTree…$9
Total Profit:$2309.16
My expenses went up just slightly this month. If you will recall in January's statement, I mentioned that I had just changed to a new host.

You can see that the hosting fees are beginning to show up. This month is really low because it was prorated, but the real cost should make itself known within the next few months.
I also had an increase in email service fees. This is because I opened a new account for this site. As you see above, I am still using MailChimp for my main blog. However, I am using ConvertKit for this one.
I thought this was a good opportunity to give them a try. I like to keep things as diversified as possible. This way, if I decide I want to change from one to the other, I will already be familiar with the set-ups.
Future Goals
I am planning to start offering customizable templates as part of my digital downloads. It's an idea that I have been toying with for more than a year. Right now, I have a few media kit templates that I have been sitting on.
My goal is to get those finished and uploaded to the store so that people can begin to purchase them. That is if I can ever find the time to get the store out of maintenance mode. [deep sigh…] I have a feeling that I will also soon be looking for an assistant.